and the winner of the 1st DIYorDIE World Mixing Championship is...
JONATHAN "GOLDFISH" GOLDSBORO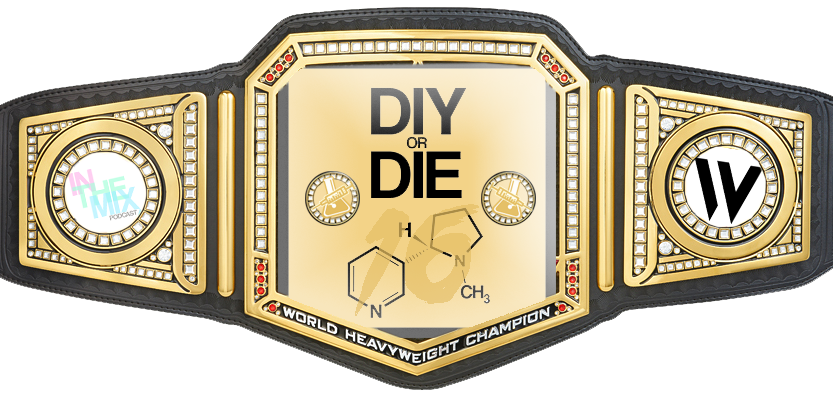 The Story:
This competition was something that was put together haphazardly in a fumbled attempt to bring competition, motivation, and drive to the DIY mixing community. The DIY community seemed as if things were becoming stagnant. The FDA put down a ton of ridiculous and demoralizing restrictions on the vaping community, local governments were banning vaping, or taxing the companies out of business, and the entire vaping industry was in a depressive state. DIYorDIE set out to create a competition to get mixers excited about mixing, to get mixers motivated, and to show the entire mixing community that their favorite hobby is still here, alive, and hungry. So DIYorDIE set forth to come up with some kind of competition to challenge the mixers and highlight those in the community who might've never had the chance to gain exposure. When the competition first started, I only expected a few entries from mixers that are more vocal in the community. However this was not the case, and I received a whopping 60 entry recipes for the competition. I was completely blown away by the support. Throughout the competition I realized that this little event meant a lot to many mixers out there. And what became of it was widespread exposure for the DIY Mixing community throughout all of the vaping industry, a complete revival of the competition aspect in mixing, and a great respect for the sport as well as the mixing community that has been deserving of it for quite some time. Along with dozens of amazing recipes made by amazing mixers, we got to see a side of mixing not many knew existed. That raw connection to a mixer's recipe, that raw connection to the art, and the spirit of progression. 60 entered, 10 made it to the semi-finals, 3 made it to the finals, but only ONE prevailed. And that one was none other than Jonathan "Goldfish" Goldsboro. 
The Winner:
Jonathan entered the competition swinging for the fences. The first phase was a "cloning" competition where the contestants had to clone a flavor profile given by me. The flavor to be cloned was a Cannoli, an old Italian pastry filled with a sweet cream. Jonathan put forth an amazing entry that nailed the profile and secured him a spot in the next round. Only 10 moved on, and there was no second guessing that Jon would be in it. Then the next round began, being the freestyle phase. This is where mixers showed off their overall mixing abilities, given a free choice of any profile they wanted, and using all the main flavoring companies, while also being restricted to 8 flavors. This phase was to see what the mixer could come up with, and they would be judge on a strict criteria. Flavor, recipe accuracy, risk taking, and concept. Jon's recipe "Apple Buttah" won by a landslide. His Apple Buttah recipe completely stunned the judges, and was the clear winner of the bunch. It was in a league of its own. The flavor was absolutely delicious, the accuracy was almost perfection, he took risks in choosing certain flavorings, and the concept was executed beautifully. This cemented Jon in the final round where 2 other would battle him. Barret Myers and Adam Biondo were his competition in the final round. The final round was a "Stress Test" and really focused on how the mixers could handle strong restrictions and pressures of time. They could only use 3 flavorings, the recipes would be judged only after a week steep and the recipe needed to be in, in a week. Not only this, but the final round was sprung upon the mixers after the second round, meaning it wasn't a round anyone could plan for. Completely spontaneous. Jon again came out swinging with a wild and highly risky Creme de Orange recipe. He took a huge risk putting forth a recipe with strong cream notes, being confident the flavor would be amazing in a week, and also with the odd choice of concept and flavorings. And it worked, he was able to take the win in the Stress Test as well and claim his title of Heavyweight Mixing Champion of the World for 2016. 
A Word From The Winner:
"Good morning everyone. I just wanted to thank you all for being a part of and following the inaugural DIYorDIE World Mixers Championship. It has been a crazy and exciting little adventure the past couple months, but I wouldn't have it any other way. Barrett Myers and Adam Alexander Biondo are amazing mixers and I guarantee you will see great recipes from all three of us for as long as we mix. I began making my own e-liquid about a year ago and it just so happened that it was around the same time Wayne Walker had really started to kick it in high gear with DIYorDIE. I owe a great deal of my knowledge and success to him and everyone that has helped him along the way (Matt Wilham, Colton Ulrich, Matthew Kocanda, Joshua Rinke, Jack, reddit, and all of you). Without everyone sharing knowledge with me, I would not be where I am today. DIYorDIE has been the single most beneficial thing to happen to our community and I'm proud to be a part of this group with y'all. DIYorDIE is without a doubt the best resource a mixer can ask for! I hope you all have a great Friday and remember to learn absolutely everything you can from this community!"
- Jonathan aka the 2016 Heavyweight Mixing Champion of the World!
The Recipes
Goldfish Cannoli
| | | |
| --- | --- | --- |
| BRAND | FLAVORING | % |
| CAP | Sugar Cookie | 4% |
| CAP | NY Cheesecake | 1.5% |
| CAP | Vanilla Custard v1 | 2% |
| INW | Biscuit | 0.75% |
| TFA | Bavarian Cream | 2.5% |
| FA | Meringue | 0.75% |
| STEEP  | LONG | 2 WEEK |
| MIX AT | 70VG | 30PG |
Apple Buttah "Best Recipe of Competition"
| | | |
| --- | --- | --- |
| BRAND | FLAVORING | % |
| FA | Fuji | 4% |
| CAP | Butter Cream | 2% |
| CAP | Vanilla Custard | 1% |
| FA | Caramel | 0.5% |
| FA | Liquid Amber | 0.5% |
| CAP | Cinnamon Danish Swirl | 0.5% |
| TFA | Vanilla Bean Ice Cream | 1% |
Mix At 70VG//30PG
Steep // Short// 2 Days
Creme de Orange
| | | |
| --- | --- | --- |
| BRAND | FLAVORING | % |
| INW | Creme Brulee | 3% |
| CAP | Vanilla Custard v1 | 3.5% |
| FW | Blood Orange | 2% |
| Mix At | 70Vg | 30PG |
| Steep | Long | 1 week |
Do YOU want to take Jon's belt and claim the title of Heavyweight Mixing Champ?
Be sure to stay updated at diyordievaping.com for news about the next Mixing Championship and be sure to bring your best. 
Prizes include COLD HARD CASH, goodies from our vendor friends, and of course the title of World Heavyweight Mixing Champ of the World. Only 18+ to enter and must have valid state ID to compete. The DIYorDIE World Mixer's Competition is sponsored by Walker Vapor Group LLC with help from Alltheflavors.com. Head to the shop to purchase a mixers membership or head to alltheflavors.com to support this event!