The Cookie Tier List
I've done a Cookie list previously, mainly just discussing some of my favorite cookies at the time. But we're a couple years into the future now, and I wanted to update my list with some options that I think are much better fitting more mixers. While some of cookies that were previously on the list remain, there are some new contenders and I think if you're looking for the right kind of cookie to add to your recipes, this list will have you covered. One last note, while the list is numbered, remember to use these flavorings as you see fit. Just because I rate something higher than another, doesn't mean it's not the right decision for you.
1. CAP Sugar Cookie
Capella's Sugar Cookie is still the king of the cookies in my opinion. It's hard to beat the soft, sugary, buttery, vanilla-y, nature of CAP Sugar Cookie. It's flavor is just so nostalgic, easy to vape, and delectable. This does bring some issues as I'll get into, but it's hard to have a mixing ensemble that doesn't contain CAP Sugar Cookie. What makes this flavoring the king is how versatile it is. You can push the flavoring to 4-5% to use as your main note and build a recipe around, or you can use at 0.5-1% to add a lovely soft sugar cookie nature to your recipe. No matter the use, you can be sure the CAP Sugar Cookie will remain present. Now, the biggest issue with this flavoring is how ubiquitous it is. It's very easily recognizable and your recipes can quickly become similar to many other sugar cookie recipes. This only really matters if you're someone who mixes a lot though, and for most, this isn't a problem at all. Just put it in your stash and I promise it will be an ingredient you'll constantly need to purchase more of.
---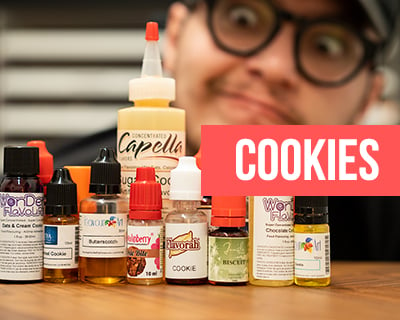 Click the image to check out my previous article and video on Cookie Flavorings
---
2. CAP Cookie Crumble
This is the new kid on the block. It's Capella's new Cookie Crumble, which aims to bring a bit more bite, snap, and crunch to Capella's original Sugar Cookie. This flavoring is textured, rich, buttery, and delicious. It's quickly become my favorite bakery to use for accenting, as it provides excellent texture, volume, and butter to any bakery I'm mixing up. With a recommended percentage of around 2-3% for an accent, it's very forgiving and much easier to work with than other bakeries. The downsides include that it does require some working around it's butter note to get the most out of it's flavor. But once you figure it out, you'll have a cookie accenter that is sure to please.
This is the classic "Generic" cookie. In my opinion it's closer to a shortbread, or graham cracker without the honey and sweetness. It's not the best flavoring on its own, but one thing you can't deny, it provides the TEXTURE. If you need to add some snap to a bakery, or create some separation in your bakery – possibly working with cookie and cream – look no further than FA Cookie. It's the only flavoring that can hold separate from any heavy cream or vanilla you may add, where the others blend a bit too much. Just remember you'll need to spice it up if you want some extra cookie "flavor" when using it.
Flavorah Cookie is one of the more unique cookies on the list. In terms of flavor it provides the closest flavor to that of a warm baked chocolate chip cookie. It's not quite there, but it's the closest of them all. In my opinion, it tastes of a concentrated shot of homemade chocolate chip cookie – and that's exactly how I use it. When I need to infuse some chocolate chip cookie into a recipe, I reach for some FLV Cookie and mix at around 0.5-1%. Now it does come with a lot of downsides. It's picky, hard to mix with, doesn't contain much body and doesn't have much texture. But those are more easy to work around than providing that brown sugar cookie taste to the mix.
---
---
Another new addition to the list is Flavour Art's Vanilla Cookie. The flavor is very similar to Animal Crackers, with its floury, light, crunchy, yet sugary and slightly buttery flavor. It's really a delicious ingredient with such an appealing flavor. I love mixing this with more delicate recipes, where the cookie needs to be present, but subtle. The problem with this cookie is that it's possibly the most difficult ingredient to use. It's very easy to overrun, and easily overran. On top of that, it can easily mute recipes if you're not paying attention. But used correctly, it's one of the best on the market.
6. JF Biscuit
You might be wondering, where is the INW Biscuit? But I'll be honest, I've been reaching for JF Biscuit much more these days. Jungle Flavor's Biscuit provides exactly the same type of flavor from INW Biscuit – a buttery, flaky, light biscuit flavor – but does so with a bit more malleability and smoothness. It's not as prominent as INW Biscuit either, but you don't need it to be since Biscuit is often used to enhance. Because of this, I opt for the more easily workable Jungle Flavors variant.
7. MB Cookie Bite
This is the odd one out and is more of an honorable mention. This cookie is the only, and best, chocolate style cookie. It's a very specific type of chocolate flavor that probably needs some work, but it's a very tasty flavoring that will provide a very easy chocolate cookie base to work with. Even if you wanted to add some chocolate cookie accents to a recipe, check this flavoring out.
8. All WF Cookies
Finally, I wanted to recommend ALL the Wonder Flavour cookie flavorings. I know, I'm cheating. But I couldn't just pick one, and I didn't want to leave any off the list. All of the Wonder Flavour coookies provide their own unique flavors that you can harness into a recipe. Want a more oatmeal like cookie, well WF Oat Cookie and Cream has got you. If you're looking for a Speculous cookie butter type flavor, WF Cookie Butter is your friend. If you're looking for something soft and similar to CAP Cookie Crumble, WF Crumble Topping is the answer. Need a vibrant Macaron, well WF Almond Cookie is at your rescue. There are so many cookies that can fill any niche you're looking for. If you have the budget, and the stash space, pick all them up. You won't be disappointed.