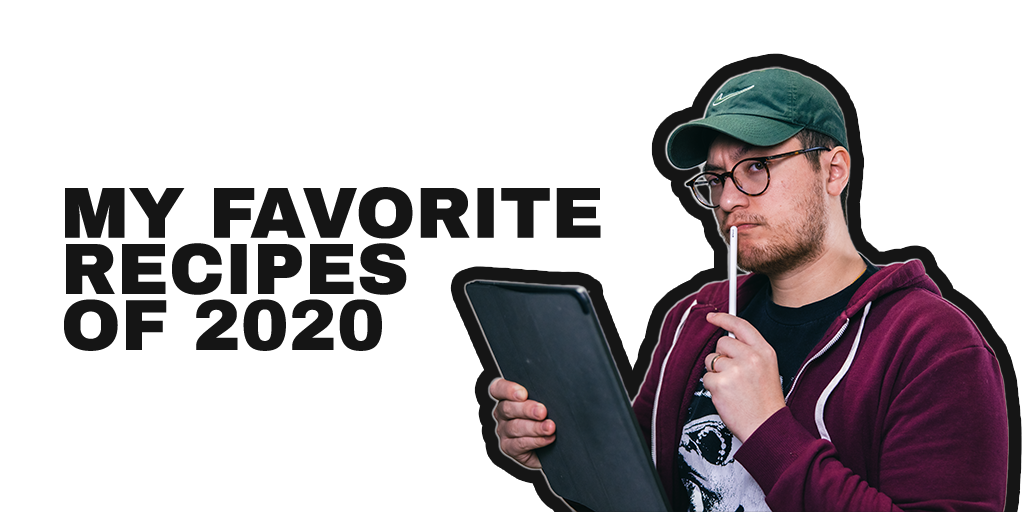 ---
The year of 2020 has been an…odd one, to say the least. While the world was ravaged by a global pandemic, us DIY mixers were happy to slave away at home, tinkering with our aromas. For DIYorDIE, 2020 also brought my new review show, Midweek Critique, where I reviewed recipes that were submitted to me by my audience. This allowed me to mix much more of the communities recipes, and also try and motivate other mixers to mix and review other mixes. That said, out of the thousands of recipes created in 2020, I mainly only mixed recipe submissions from this show. So you'll see there's a bias in my recipes, since all of them appeared here on the show. Now if you want a shot at getting your recipes reviewed, to hopefully win a spot on the list, make sure you tune in on Wednesdays at 5pm EST on Twitch and Youtube. Now on to the list….
---
Unexpected Recipe of the Year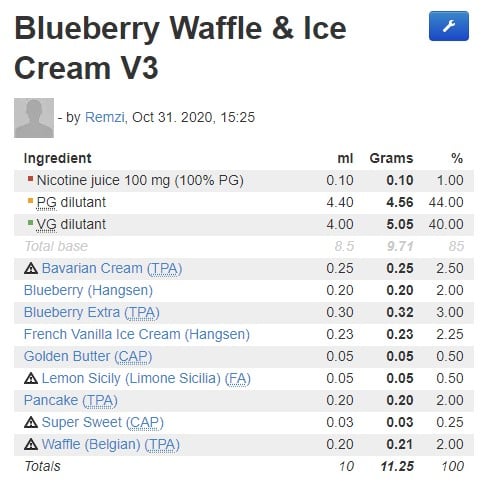 This recipe was one of the biggest surprises to me of the year. Both in profile, and the mixer making it. "Blueberry Waffle Ice Cream V3" by Remzi is exactly that. A well balanced, accurate, & delicious waffle with ice cream, drilled with blueberry "compote". This recipe brings you a bright, vivid blueberry mix that's sweet and forward. Is it "compote"? Well it gives the impression with the rest of the flavors added, even though it can use a bit more of a natural flavor. This is followed by an accurate waffle/pancake that adds a "breakfast" feel to the mix. And this all lays on the back of a nice cream flavor that finishes the vape with a fluffy mouthfeel. While it's not perfect – it could use more natural blueberry, and a boost to the "ice cream" – it's astonishingly impressive when you consider this is Remzi's first public mix. And with all that's going on, it's impressive he was able to provide a profile so accurate and well balanced.
---
Favorite Strawberry & Cream
Everyone knows I mix up and vape a lot of strawberry creams. Well this year, I wanted to highlight my favorite. And Sanctums Creamy Strawberry V2 is that recipe! There's really not too much to say about it. The main thing is the use of CNV Strawberry. This flavoring, paired with CAP Sweet Strawberry and INW Shisha Strawberry, creates this juicy, jammy, sweet-yet-natural, and most importantly irresistible strawberry flavor. Following this up with his INW Custard / TFA French Vanilla Deluxe / Vanilla Pudding base creates a truly "creamy" – not milky or fluffy – flavor, with velvety cream finish. Like the others, it could use a bit of tweaking to help bring more saturation and more presence to the mix. But overall, it's hard for me to not want to steal this strawberry base for any S&C mix I make. 
---
Favorite Fruit Recipe
Eyemsam is here with his "Drippin Churries" recipe. This recipe was one of the few impressive fruit blends I've mixed up this year. The profile is quite simple. It's a cherry popsicle. And by god is that exactly what I get. Cherry itself is a tough profile to mix with. But the smart use of FLV Moscato to really bend & blend the cherry down makes this work so well. Pair that up with a few enhancing notes – like the FA Pear providing a subtle splash of sweet juice, or VT Sour Lemon to boost the top note a notch – you have an excellent, fun, and vibrant flavor that's easy to bend to fit whatever nuance you want. Now the Moscato is certainly forward and distinct, and could use a bit more blending or bridging to hide its unique flavor. And I'm sure there's room for bringing more saturation to the party. But overall, in a year lacking a lot of great fruits, this was a breath of fresh air.
---
Best DIYorDIE Recipe
[vcc-recipe-hook recipe=24750]
I wanted to put out my favorite recipe I made on Live Mixing. This year, I got to give it to my Smoked Butterscotch Latte. I've found that most coffee's (if not all of them) have the same type of flavor. Burnt, cheap espresso beans, that stain your RDA's for good. Well upon mixing this, I was skeptical anything good would come of it. Lo and behold, Smoked Butterscotch Latte was born. Instead of using a traditional coffee flavoring (because they all suck) I chose to use FE RY4 Double which has a smoky coffee flavor, along with a bridge of caramel, vanilla, and butterscotch. I then paired it up with some traditional Butterscotches and some whipped cream to tamper, and bam. One of my favorite recipes I've made last year. Definitely worth a try if you're like me and hate most coffee vapes.
---
Best Soda Recipe
This is a recipe created by VIVAVAPE for the Developed contest. It's a simple cola mix. But it doesn't use any cola flavorings and only uses FLV flavorings. Instead, it takes FLV Root Beer, bends the fuck out of it with FLV Blood Orange, FLV Citrus Soda, and of course FLV Rich Cinnamon. The FLV Root Beer is the star of the show, but the blend of cinnamon and orange turn it into this vibrant, present, and most of all accurate cola recipe. The orange is a bit brighter than I'd like, but that's nothing a bit of steeping can't fix. I just find going back to the original cola profile, instead of the fruit soda blends of late, is nostalgic and yeah…my favorite soda of the year.
---
Circlejerk of the Year
Many people have asked my to produce the "Worst Recipe" of the year, and I felt that a bit too "mean". But I do want to highlight a recipe I felt deserves the title of "Biggest Circlejerk" – a category I'm sure I've been in many times. This award goes to ID10T's Pank Milk. This caught my eye a few months ago when I saw the profile and reviews. The profile is a hibiscus, guava and cream. Doesn't sound too crazy right? Well you need to taste the mix to truly understand it. The use of FLV Pink Guava with CAP Hibiscus provides this fruity/floral blend, that certainly tastes pink, but also tastes…..not good. Mainly because of the odd off-notes that Pink Guava provides (that Dave refers to as "Funk"). Then you pair this up with FA Milk / CAP Sweet Cream, and you have something I feel is just….I just don't understand the fanfare myself. It's not "bad", and the recipe itself is kind of impressive. But is it "good"? Well with 5, five star ratings, it's in my opinion, the biggest circlejerk recipe of the year.
---
Favorite Dessert Recipe
Mixin Vixens co-host Rinvapes makes the list this year, with her Autumn Memories. Now Rin usually mixes at a much more subtle level than I do personally. So I was a bit weary that this might not bring the level of saturation I'm looking for. But instead, I was blown away by the texture and accuracy of this mix. This profile gives you a light pumpkin flavor, with pumpkin spice notes like cardamom, nutmeg, and cinnamon, all laid atop this velvety whipped cream followed by a fluffy sponge cake. It's still quite light – but it doesn't sacrifice texture and mouthfeel for saturation. The cream base provides such a distinct experience, that I used it many times after in my own mixes. So from the flavor, the accuracy, the pleasant vape, and the fact I've used the cream base here so many times in my own mixes, it's probably my favorite dessert of the year.
---
Best DIY E-liquid Recipe of 2020
Now on to the BEST RECIPE OF 2020! And this goes to Dellvapes Apple Butterscotch Custard V6. This can be boiled down to one word. Impression. This recipe is a masterclass in impressionistic mixing. The start of the show is the LA Butter Rum. The way it transforms the apple into the exact type of "baked" apple flavor you'd find in an apple custard – but also creating a much more accurate custard impression. While I'd love a thicker, more luxurious custard, I can safely say this recipe is a custard – unlike the thousands with the same moniker. And it's Dellvapes excellent work crafting the recipe as a whole, as opposed to its individual parts, that gives it the coveted Custard profile. Not only this, but the recipe is balanced extremely well, the flavor is excellent, the saturation and presence is great, there's mouthfeel and attention to vape experience. It's really an excellent fucking recipe and my favorite of 2020.
---
Thank You DIY Community!
So that's my list of my favorite DIY e-liquid recipes of 2020. Remember, if you want a chance for your recipes to hit my "Best Of" list, head to Twitch on Wednesdays and submit your recipes for review. I'm really excited to see just how much further the DIY community will progress, and I can't wait to see the types of recipes that are in store for us this year.