---
Different DIY E-liquid Mixing Costs
There seems to be a nice influx of vapers looking to start their do-it-yourself e-liquid mixing journey. But many are budget conscious and want to know exactly how much it may cost to effectively get into the hobby. This article will detail the different types of ways you can jump into mixing, at different budge levels, for different use cases. And it should be known, that prices may vary. I will do my best to update this article throughout time to keep up with current prices. So let's begin.
The Essentials
There are some supplies that, no matter your use case & no matter your budget, you'll need to be able to make your e-liquid. These are the essentials.
Measuring
Everyone needs a method of measuring their ingredients. This is what you will use to determine how much of an ingredient you need. Below are two options you can go with. But I want it to be known, I do NOT recommend anyone go with measuring volume (with syringes). While they are cheaper initially, their costs are forever. But worst of all, they are highly inefficient, cause massive clean up, and overall makes mixing much more of a chore. I highly recommend you include the scale in your budget right off the bat. If you do go with syringes, know that you'll need 1 for every flavoring ingredient (you cannot use the same syringe for different ingredients).
Weight:
The Standard:
This is the industry standard for mixing e-liquid in the DIY scene. It's a great, reliable, accurate, affordable scale that will quickly measure out your ingredients. It's easy to clean if you spill on it, and runs off battery.
The Budget Option:
The AWS Digital Pocket – $14.25
I have not personally used this product, so I can't personally vouch for it. But I am aware of many mixers who have started out using this scale. It's a small pocket scale, that accurately weighs down to 0.01g (a must). While it only can handle 100g, it's just enough to get you by until you can afford to upgrade.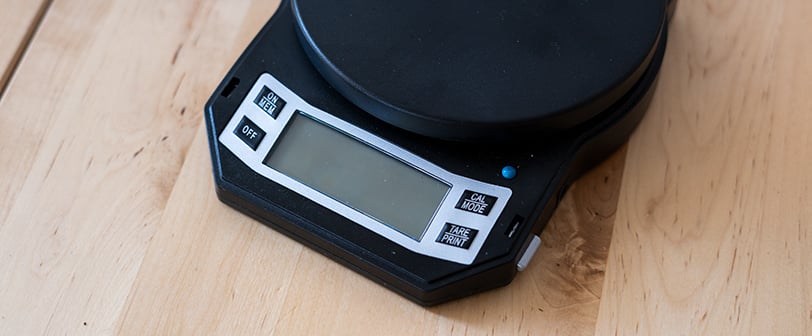 Volume
The Box:
100x Box of Luer Lock – $12.50
and 120x Box of Blunt Tips – $6.99
Above is a box of 100x 3ml Syringes with 120x blunt tips. This is a large enough amount to last you a good amount of time before needing to upgrade or re-up. As you can see, it's not much cheaper than going with the scale.
The Budget Option:
So you may see the budget option as so much cheaper than any other option. But, while it is more affordable, you need to remember you need 1 syringe for every ingredient. If you plan to buy 10 flavorings, you'll need 10 syringes and 10 tips. This ends up costing close to the scale. None the less, if you're only purchasing a couple of ingredients (we'll get more into this later), this is an affordable option.
Bottles:
Of course you will need to house your e-liquid in some bottles. There are many different types of bottles to choose from. Below, I'm choosing the best option vs the most affordable option. I want to note, I personally use the cheapest bottles I can get, mainly because I'm constantly in need of new bottles. But if you have the room in your budget for the best storage, you may want to choose the more expensive option.
The Glass Amber
12x 30ml Amber Glass Bottles – $11.29
The standard glass, amber, Boston round bottle, is simply the best storage option for e-liquid. The amber color helps keep out UV light from damaging the product inside, the glass doesn't allow oxygen leak, and they are reusable. Now, they aren't for everyone. They are much more fragile & more expensive. If you're someone who wants to mix dozens of new recipes a week, you may find cleaning them cumbersome. But if you're mixing only a few ADV's all the time, this is the best option.
The Cheap Plastic Disposable
12x 30ml LDPE Dripper Bottles – $8.99
Plastic bottles are great because they are basically indestructible, they're soft and easy to squeeze/use, and they are cheap. They do not offer the best protection against the elements, but if you plan to vape your e-liquid within a few weeks of making it, this isn't that big of an issue. The biggest downside to them is that you cannot reuse them with different flavors. You CAN however reuse them with the same flavor. So if you're on a budget, want durability, and something easy to use, these are a great option.
Total Price for Essentials:
Recommended Option
LB-501 Scale ($35.00) + 12x 30ml Glass Bottles ($11.29)
$46.29
Cheapest Option
10x Syringes ($6.50) + 10x Tips ($4.00) + 12x 30ml Plastic Bottles (8.99)
$19.49
---
The Easiest Route
So you may be forced into DIY because of regulations in your state/country. Because of this, you just want a quick, easy, and affordable way to make some good tasting e-liquid. You don't care about creating recipes, or spending the time developing them, & you don't care to spend the immense amount of time and resources testing ingredients. You just want tasty e-liquid quick. Well, if this is you, then you'll want to go with the products below.
500ml Premixed (3mg – 12mg Nicotine) 80VG / 20PG Base – ($8.99)
So many of us don't change nicotine levels on the fly. And we don't change our VG/PG ratios. If this is you, you may not want to deal with measuring out VG, PG, and nicotine separately. You just want something that is affordable, and extremely easy to use. In this case, going with premixed base is a great option.
DIYorDIE One-Shots (15ml $5.49 / 60ml $14.99)
One-shots are the concentrated version of a complete recipe. Think of it like when Coke sells their concentrate to a shop to use in their soda machine, this is the same type of product for e-liquid. These are extremely easy to use, taste excellent, and are much more affordable than finished e-liquid. Going this route ensure you will have something delicious to vape, with very minimal "process" of mixing. A 15ml can mix around 150ml of finished e-liquid.

Total Price
500ml 3mg Premixed Base ($8.99) + 3x 15ml DIYorDIE One-Shot ($5.49 x 3)
$25.46 + Recommended Essentials Price ($46.29) = $71.75
$25.46 + Budget Essentials Price ($19.49) = $44.95
So going off the budget essentials, for around $50 you're able to mix up around 500ml's of finished, delicious e-liquid. This option is the most affordable option to get into DIY, and also the most user friendly. You also will learn the fundamentals and process of mixing going with this option. Now, you sacrifice customization of your e-liquid. And you are missing out on what makes DIY "fun". But if you just want some e-liquid, and you need it affordable, and need it now, this is the route to go.
---
The DIY Route
Now say you want to get into actually making your own e-liquid. This involves purchasing each ingredient, separate from each other. This would allow you much more tweaking, customizing, and refining. If you're interested in diving fully into the craft of e-liquid development here's what it'll cost.
Vegetable Glycerin / Propylene Glycol
I personally use Liquidbarn bases. Full disclosure, they send me their product for use. But even if they didn't, I'd choose their product. It's excellent quality, and ships in a great container for easy pouring. Their bases are also competitively priced.
Nicotine
125ml 100mg/ml PG CNT Liquid Freebase Nicotine – $15.99
Purchasing Nicotine is a bit more user specific. Again, I personally recommend Liquidbarn. They offer a great product at a great value. The nicotine above is also competitively priced. Now, I do want to state – if you're looking to save money, do not purchase "cheap" nicotine. Rather, just buy less of it. A 100mg/ml base will last quite a while (especially if you're vaping 3-6mg). So instead of buying a liter of cheap product, buy a small amount of great product. This will limit any issues that may come of the nicotine.
Flavorings
10x FlavourArt Flavorings – ($2.25 ea)
Lastly, we have the flavorings. I always recommend you start by finding a recipe online at e-liquid-recipes.com or alltheflavors.com with high user ratings, that you think looks tasty, and purchasing the ingredients necessary to make it. If you choose 2 – 3 recipes, you may end up with around 10 flavorings. Now because FlavourArt flavorings are easily available, very easily used with each other, widely used, and many are great flavorings on their own, I will price in 10 FlavourArt flavorings. These flavorings are also some of the more pricey flavorings, but is a more accurate showcase of what to expect in terms of price.

Total Price
Vegetable Glycerin ($9.99) + Propylene Glycol ($9.99) + Nicotine ($15.99) + 10x FlavourArt Flavorings ($22.50) = $58.47
$58.47 + Recommended Essentials Price ($46.29) = $104.76
$58.47 + Budget Essentials Price ($19.49) = $77.96
Now for around $80, which comes around double the amount of the "One-Shot" route, you get double the amount of e-liquid produced, as well as much more customization and recipe options. What you sacrifice in ease of use, affordability, and space, you gain in immense control and customization of your finished product. This option is for those who really want to learn the craft and trade of mixing, and have something new to vape every day. The enthusiast if you will.
---
So there you have it. Two different routes you can go down, with both recommended and budget options to choose from. The conclusion being, you can spend anywhere from $50 to $100 to correctly & efficiently make your own e-liquid. Remember, prices will vary a bit. VG prices are known to fluctuate, and you may want to purchase more or less flavorings. All these factors will alter price. But at the very least of it, you can expect to spend $50 to start mixing up One-Shots which will net you around 500ml of finished e-liquid and a savings of half of what you'd get in the market. And at around $80, you can start developing your own recipes, with an infinite number of choices, availability and versatility, which will net around 1000ml of finished product more than 2x what you'd get in the market, with just a bit more elbow grease and research.