---
Regulations will be coming down any moment now. This means the future of flavored vaping is quite uncertain. But One-Shots fall into a special situation. You see, because they do not contain nicotine – in fact, you can't even vape them! – they aren't classified either as a vaping product or nicotine product. They are, in the end, just flavorings. And with many companies already producing one-shots (different from short-fills) we expect them to gain more popularity as time goes on. This article is meant to help you learn how to use them, in the most simplified way possible.
---
Be sure to click on the links if you need to purchase these materials and supplies!
Step 1: Get The Ingredients
---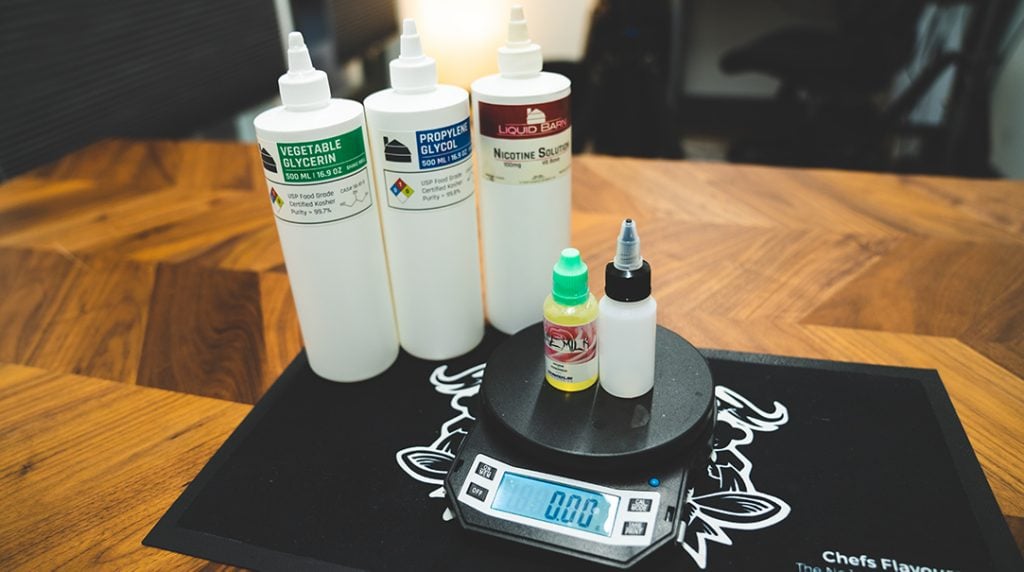 ---
Step 2: Set Up Mixing Area
Place your scale down, and if its your first time using it, feel free to calibrate it. Place your empty bottle on your scale. If you'd like to use glove and goggles, feel free to put them on now. And get ready to pour your ingredients.
Step 3: Use E-liquid Calc to Calculate Measurements
In your web browser open e-liquid-recipes.com (all other E-liquid calculators operate the same way but may look a bit different)
Click "Create Recipe" at the top
This is what you'll see and what each section means
---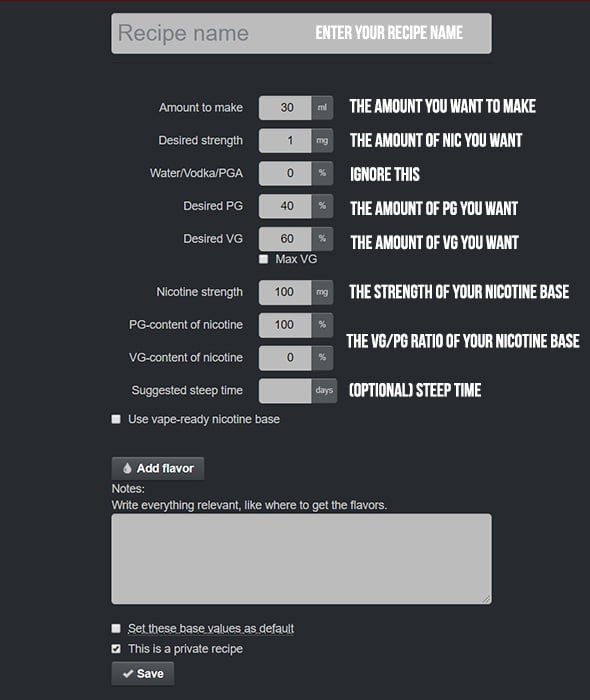 ---
For this e-liquid I want to make 30ml's of 60VG 40PG e-liquid at 1mg of nicotine. And I'm using 100mg/ml nicotine that is 100% PG. 
Your values may be different depending on how much you want to make, how much nicotine you want, and the type of nicotine you have.
Once your done inputting in those values, press the "ADD FLAVOR" button
This is where you will add the flavorings necessary to make a recipe. In the case of the One-Shot, we only need to add one flavoring. 
Input the Name of the One-Shot and in the % box, input the amount of flavoring the One-Shot developer has specified. It's usually somewhere on the label. 
For this Rose Milk One-Shot, we'll input the value of 15%
Now you'll see the "Recipe Label" which shows you all the values you need to make your e-liquid. 
There are 2 different measurements. Ml's and Grams. Since we're using a scale, we will measure with Grams. 
---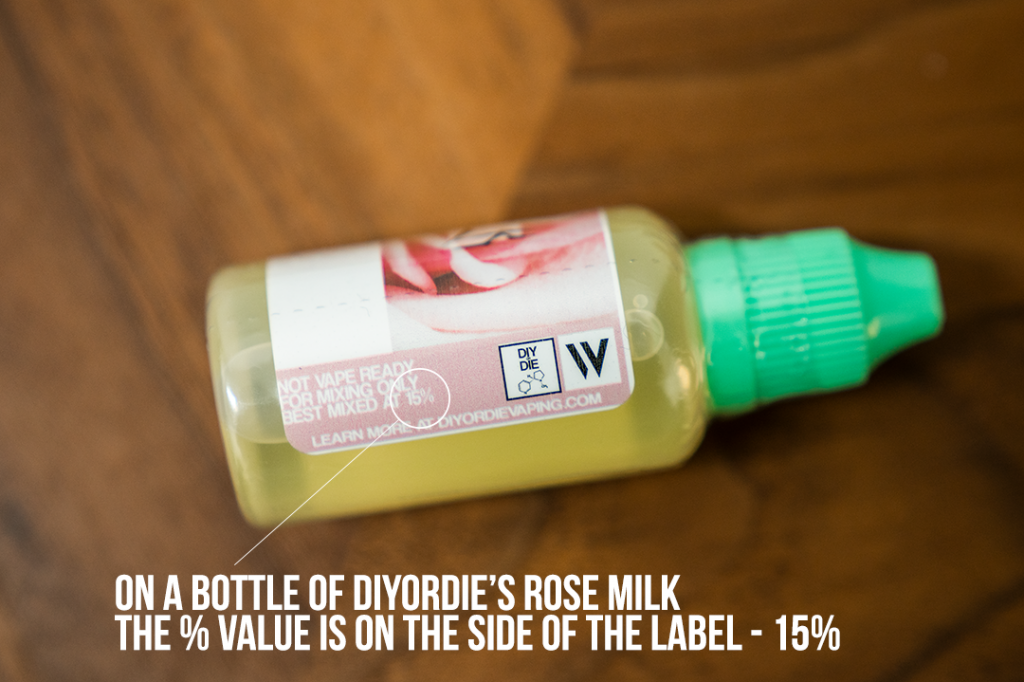 ---
Step 4: Pouring Ingredients
So turn your scale on, with your empty bottle on top. Make sure the scale is set to Grams, or g. And your scale should read 0.00g. If it doesn't, press Tare with your scale on top, to zero it out. 
The first ingredient we will pour in is our One-Shot. Pour the one-shot to specified measurement. In this case, it's 4.50g.
---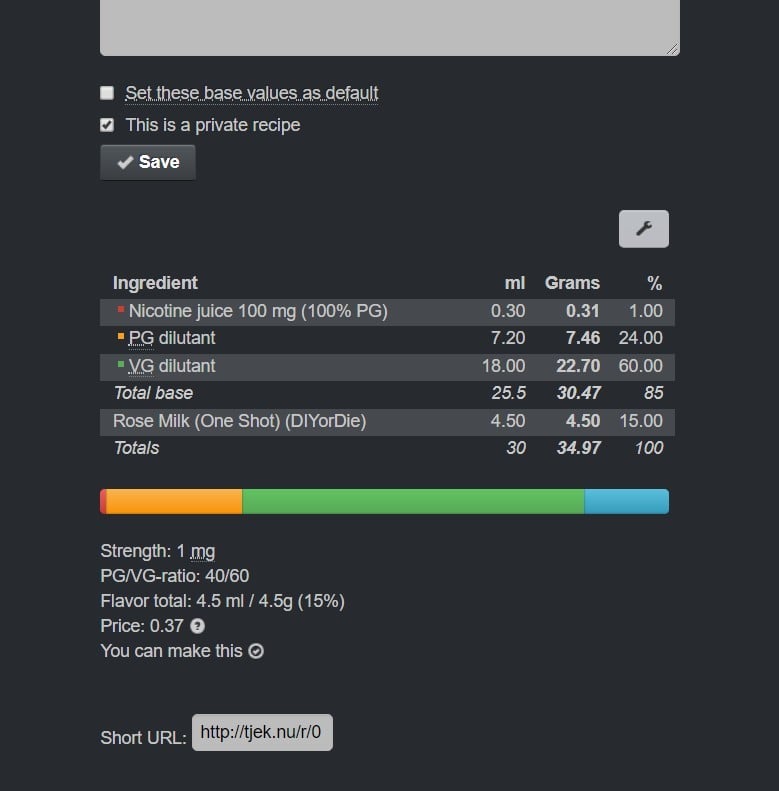 ---
Once you're done, TARE the scale to zero it out. And now move on to your Nicotine. In this case, we need to measure out 0.31g. Once we're done pouring, we TARE. 
Repeat for PG, and then Repeat for VG. 
Once all of your ingredients are poured into our bottle, close the top of the bottle and give it a VERY thorough shake. 
---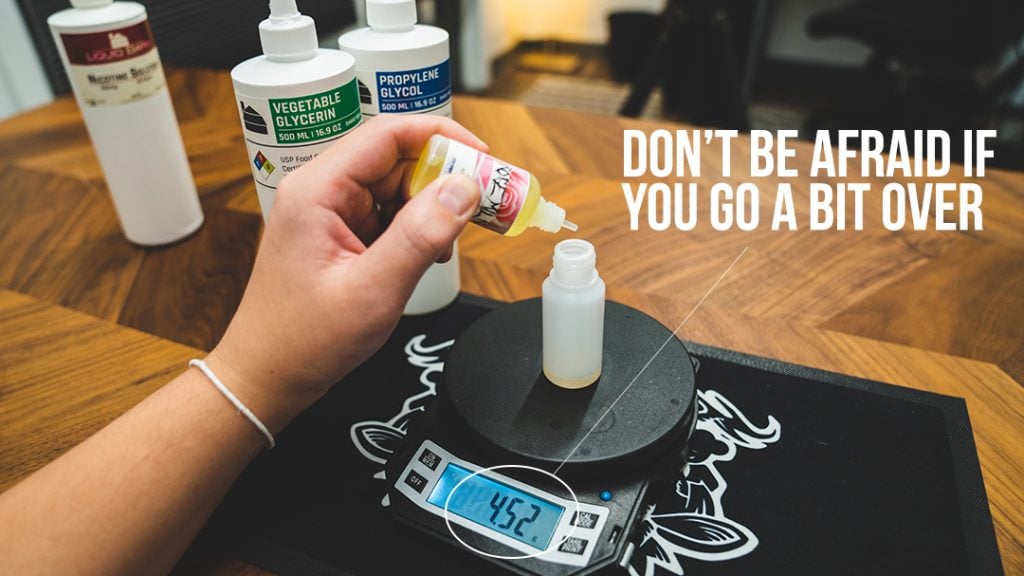 ---
Step 5: Enjoy!
You're now done making your first e-liquid! The process might seem like a lot of steps, but in reality, it's VERY simple. You're just calculating your ingredients using a simple to use calc. Then measuring your ingredients on a scale into a bottle, giving it a shake, and that's it. Now, some recipe might taste best after a "steep". This allows time for the concentrates to fully "bloom" which may give the recipe more flavor. All this means is that you just need to put the recipe in a cool, dark place for a few days. If you enjoy recipes that need steeps, just make sure to mix ahead of time before you run out, to ensure you're always vaping at the most optimal period for your e-liquid. And once you've gotten the hang of this, feel free to head to the more advanced side of mixing, where you will learn to craft your own recipes, using individual flavorings. It can become a very rewarding, very entertaining hobby, very quickly. So get out there, and get mixing!