---
One of the best feelings in vaping – all of vaping – is learning how to mix. And a feeling even better than that, is mixing up a recipe that ends up being your All Day Vape (or ADV). It's a feeling of accomplishment, satisfaction, and pride! I still remember mixing up my first ADV. It was a simple Strawberry Milk recipe, similar to what I was spending a FORTUNE on before I found the recipe. Once I nailed down the recipe, I threw my arms up in triumph, knowing I'd never have to spend full price on commercial juice ever again. And while that recipe has taken on many forms since then, I still vape the general recipe to this day. So it got me thinking…

have you found your ADV? 
It's such a pivotal moment in your vaping career, and something every mixer (and vaper) should experience. This very moment is almost vital to the success of your mixing experience. The ADV DIY E-liquid recipe does much more than provide a nice tasty vape. It provides these great benefits

Allows you to save up to 98% on e-liquid, since you can now mix up an e-liquid you would've otherwise purchased
Provides a great sense of pride and accomplishment. Finding that ADV should be the aim for every mixer, and once found, it feels like you've accomplished what you set out for yourself.
Provides an over-abundance of e-liquid. Always have e-liquid on you! No more late, expensive trips to the vape shop
No longer need to worry what to mix. It's great having that recipe as something to always fall back on.
Creates a "base-level" of experience. That ADV is a great way to see where you're at with your mixing, and your tastes.
---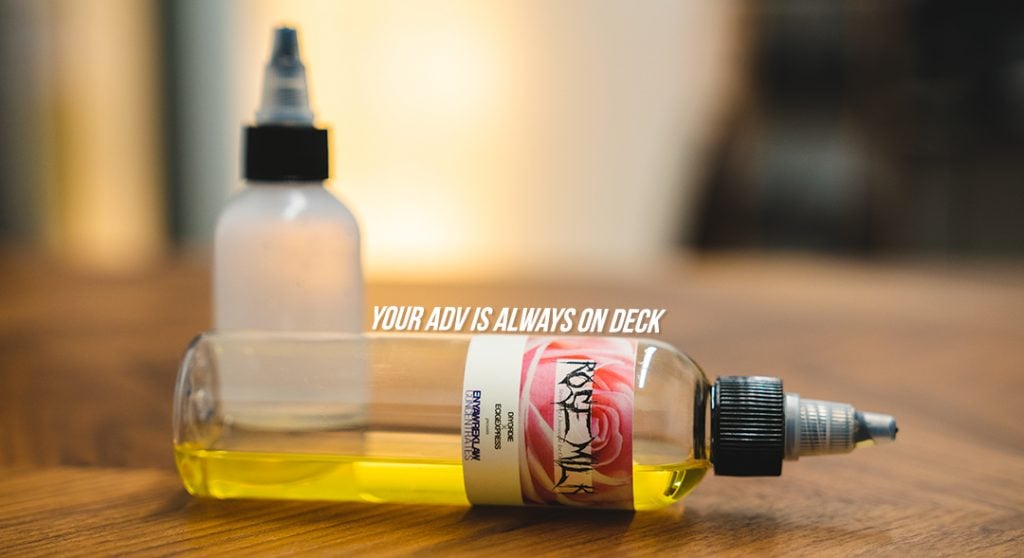 ---
So those are all the great benefits of finding your ADV recipe. But what if you don't have one? If that's you, do not fret. There are MANY of you out there. In fact, I think it's one of the biggest issues facing the mixing community right now. All too often I see posts and comments about mixers who are getting fed up with DIY and upset they haven't found that "right" recipe. I can understand the frustration. But what can we do about it? Are there some simple tips to help someone find their ADV? Well, not quite. That ADV is the epitome of "subjective". I can't tell someone to enjoy a flavor, especially not enough to vape it all day. Therefore that's something someone needs to find themselves. But here are some tips in hopefully minimizing the time needed to find that right flavor.

Keep things simple! Don't overly think you're ADV. Most of the common ADV's are very simple, very straightforward flavors. Take mine for example. Strawberry Milk. I don't get too picky with the specifics, that's something that takes a bit of time to hone in. But the profile itself is not convoluted. That's how you should be thinking about your ADV. So, don't look for recipes like a Banana Granola Almond Yogurt. Instead, maybe just…Banana. Or Almond Yogurt.
Look at others' ADV's. Finding inspiration from other's is a great way in aiding your own profile. And more often than not, someone out there will have similar tastes as you. It should help narrow down the search.
Make sure you're being truthful to yourself! If you mix something up, or taste something, and it's just not working, then it's not an ADV. An ADV is something you love, and can vape all day, every day. If you try and "force" yourself to like something, you're just wasting your time!
Get a good Vape Setup. Make sure you're using RDA's or Tanks that can provide, thick, vibrant, and saturated flavor. You may be missing out on some potential ADV's, all because your vape doesn't reproduce those flavors well. But at the same time, don't use and devices you don't like. The same rules as above apply to your vape. Don't "force" yourself to like a device. If it's not working, move on. Time is money!
Finally, vape a lot of different things. Constantly bounce around between different profiles and recipes. This will expand your palate, and increase the likelihood you'll find that right flavor. 
---
---
So there are my tips for you. I implore you to find an ADV if you haven't already. Mixing your ADV is one of the main reasons to DIY, and like I mentioned, I see many who haven't found their ADV's get very frustrated – some even to the point of leaving the hobby forever, spending thousands in its wake. So make it your top priority until you've found it. And I can promise you, you'll be much better off once you've nailed it down.