---
So I wasn't sure I was going to do this list again for this year. Every time I put this list out, there are a handful of people who claim I'm getting paid, or that DIY is a big circle jerk, or that I'm terrible mixer because I didn't choose theirs. But, these lists are always very popular, they help out the mixers included, and we're left with a great list of delicious recipes to vape. So I figured, fuck it. I want to do a list again, so I'm going to do one. This is my 2018 favorite recipes list.
Now you might notice, it looks a bit different than previous lists. I decided to change things up a bit. Instead of rating each recipe from 1 to 5, with number 1 being the "best". I decided to just pick one winner, which would be my favorite, but included many of the other recipes I enjoyed, just without a ranking. I'm going this because it's always difficult to rate recipes against each other, especially when you factor in flavor preference and profile choice. So just know, all the recipes on this list are amazing, delicious, and worthy of a mix.
---
My Favorite Recipe of 2018
This is my favorite recipe of 2018. I remember getting a sneak peak when I met Folkart at the Vegas Convention, who was casually vaping on this. I tasted it and remember thinking to myself "I need more, much more." I'm a sucker for Chocolate. When it comes to candy, I reach for the chocolate every time. And this is easily the best chocolate vape ever produced. Up top is where the creaminess lies, and the finish is where the entirety of the flavor comes together. With this deep, sweet, milky chocolate splashes you on the end. The chocolate is vibrant, silky, and smooth. Not dry or bitter like so many before it. And the reason this recipe, for me, is so memorable is because of the hunt for this profile. For years we've strived for a good rich chocolate milk. And only until the near end of 2018 were we able to reach it. It's not a perfect recipe, it's not a particularly complex recipe, and it's certainly not a recipe for everyone. But for me, Folkart created my favorite recipe of last year.
---
Runner Ups
As an experienced mixer, we often can look at a recipe and just assume if it will taste good or not. But sometimes, there comes a recipe that we get completely wrong. This was one such recipe. I took one look at the ingredients needed, and brushed it off. Only until it was recommended to me, did I give it a chance. And man, what a treat. While it doesn't taste exactly like a Snickers bar, it certainly tastes like the impression of one, and comes damn close. The milk chocolate is sticky and has depth, the middle of the vape is filled with that gooey rich caramel, and the finish is an authentic peanut flavor. My only critique is that there seems to be a touch too much peanut skin, which is more a fault of the Beer Nuts, and not the recipe. Maybe even drop the beer nuts to 0.1% or create a dilution of it. Other than that, you're getting a complex chocolate, caramel, peanut vape, that's sure to impress.
I hate that I enjoy this stupid recipe. I really do. But I need to give it its props. It's the most strange blend of tobacco, smoke, fruit, citrus, and beer I've had. Yet, it comes together and produces a damn interesting vape. I'm not sure if many of you will enjoy this recipe. In fact, I'm sure many of you will hate it. But the accuracy, the depth, the flavor stage, the balance, and the vape, all excel. If you want a vape to pair with an IPA this is one that will put hair on your chest, and go down nicely with a BBQ.
Where Kocanda's IPA was pungent, earthy, and odd, this is the complete opposite. It's bright, sweet, floral, and energetic. Not only does it hit the IPA notes well, it hits the fruits even harder, which is why I really enjoyed it. The Blood Orange, Pink Guava and Yakima Hops create a fruity, lightly hoppy flavor that's delicious with a beer. To me, it takes the base of Fiestas and Fiascos by Concrete River and capitalizes on the lack of vibrance in the mix. If you like citrus, beer, and tropical fruit, do yourself a favor and mix this up. Especially if you enjoy a good Founders.
This recipe is only two ingredients and some sweetener. I debated putting it on the list, but the flavor that comes from this is not-debatable. It's so tasty. The main note of this recipe is Capella's Green Apple Hard Candy – which is a perfect green jolly rancher – adds some extra sweetness and depth from FLV's Sour Apple, and then drops in some sugar. What comes of it is an extremely saturated and vibrant Green Jolly Rancher. And that's it. You can laugh, you can say this isn't a "real" recipe, but you can't say it's not delicious. Because it is, and I've wasted all my CAP Green Candy thanks to this recipe.
Dave makes the list again this year by tickling my ego, using my own Water Malone one-shot in this recipe. What I love about this recipe is how well the Fuji and Strawberry work with Water Malone, and I kind of wish I just created Water Malone using those flavorings as well. It's bright, vibrant, and vapes so well. If you're looking for the best Strap On recipe, look no further. This one is simply delicious, and… I make money from it.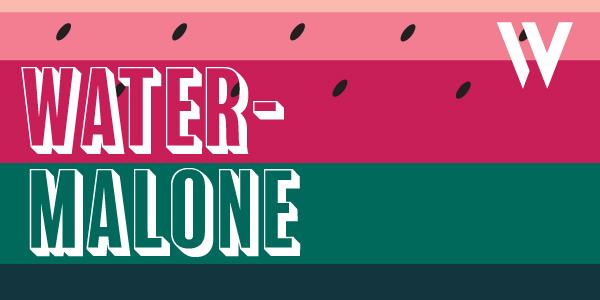 Yup. Silky did it. A deliciously rich, and accurate, buttermilk pie. At first, I thought the recipe was a bit stringent, with the Butter cutting through a bit too much, and the Custard missing the mark. But after a steep, it pulls together, and you have such a moreish vape, it's almost impossible to put down. The top is where you'll taste the sweet butter, followed by this rich, flaky, buttery crust, all held together by that subtle sugar note that comes from buttermilk pie (I think it comes from the Apple Pie). The flavor stage is a bit dense, which helps this profile, drilling all its flavor right in the dense body. This might be my favorite bakery of the year, and I want to see how far Silky can take this profile. If you like cakes, creams, custards, and those thick buttery vapes, this is easily one of the best in the genre. Just mix it up, throw it in the steep closet for a week or two, and give it a rip. Just beware of the DAAP.
My favorite custard of 2018. What I like most about this custard, is how different it is. The focus of this flavor is not on the custard, but rather the Honey. And it's truly a honeycomb like flavor, where the honey isn't thin. It packs a bit of depth, almost like it was infused with a touch of caramel. What follows is a warm, more dairy based custard, that isn't buttery or eggy, but more silky and smooth. It packs nice imaging, where you can pick up the honey on the top quite easily, and the custard finish following through. I do wish the flavor packed a bit more volume, as it decays a bit quickly. But overall, I can see why the UK has been going crazy over this mix. It's really good.
The reason this recipe makes the list is how insane it is. Looking at the ingredients, you'd never expect this to taste like a Cola. But it certainly does. It's a nod to great mixing, and showcases a mastery of knowing your ingredients. Only until you taste it will the recipe start to make sense, and that's what's special about this mix. My biggest issue with the recipe, is the profile itself. It's a simple cola and that's ignoring some small faults like the mouthfeel and short decay. But this is what pushing the boundaries looks like and I can't wait to see what else Alfred Pudding has to offer. You need to mix this, simply to see what is really possible in mixing. A stunning piece of work.
---
Community Voted Winners
Best Dessert / Bakery / Custard
Best Fruit / Candy 
Best Tobacco
Best Simple Recipe
Best Clone
---