---
A Custard Recipe
Description
A simple vanilla custard with rich egg and butter graham notes layered beneath.
Recipe
CAP French Vanilla V2
4%
CAP New York Cheesecake
3%
CAP Vanilla Custard V2
7.5%
OTHR Ethyl Maltol 10%
1.5%
TPA Graham Cracker Clear
2%
TPA Vanilla Swirl
2%
Total Flavor: 20%
Rich Vanilla
Buttery Egg
Light Graham
---

Flavor Notes:
CAP Vanilla Custard v2:
I've been more partial to V2 these days. Mainly because I pick up a very oily off-note from V1, that I just can't shake, and it actually gives me nausea. Anyways, V2 is much more "artificial" vanilla, where it can be a bit plastic-like when you first mix it up. Especially at a high 7.5%. But after a week, it smooths out, and after longer, it becomes even more rich, with a brighter vanilla. That said, I can vape this fucker right off of a shake. So don't let a steep worry you. One last note on this vanilla. This is the main note of this recipe, and all the other flavorings rely on this ingredient, so you can't swap it out for a V1, or other custard. I specifically chose certain ingredients based on the artificial nature of this flavoring. So mix as is, and you should be a happy customer.
CAP French Vanilla V2: 
This flavoring, and it's V2 variant, have also made its way into my custards for the last year or so. Mainly because it adds a much deeper richness to the body of the vanilla. It's odd, because it's not a buttery richness, or even a creamy richness. It's almost a nutty, cookie-like richness, that really drives the custard profile along. This flavoring also brings along its own set of oddities, but they're easily remedied with a few other profiles below. I'm using it at 4%, which is higher than I normally use it at, mainly to drive more flavor out of the vape. I wanted this custard to be as flavorful and vibrant as possible. So landing on 4% was the outcome.
CAP NY Cheesecake:
This flavoring adds all the nuance to the recipe. Without it, the recipe feels flat, artificial, fake, and plastic. But only 3% (lower than I'd normally use) pulls a lot of the artificial notes out, and replaces them with more natural, velvety notes. There's a touch of graham crust in this flavoring that I think add to the nuttiness that can come from real vanilla custards. So I exploited that with the addition of a little extra dedicated graham cracker.
TFA Graham Cracker Clear: 
The main reason I chose to add this flavoring was to add a bit more depth to the overall body of the mix. Without, there's almost a blandness to the profile. Many people like that aspect of custards, i.e. Killa Kustard. I personally don't, i.e. Kings Custard. So instead of adding a butterscotch or caramel, I decided to go ahead and further exploit the light nutty cookie notes that are hidden beneath. What you get is slightly more interesting vanilla body, that packs a bit more tone to the overall profile.
TFA Vanilla Swirl:
Lastly, the last thing I wanted to do was add 1% of Vanilla Swirl. It's so common, and I did everything I could to find an alternative. But damn. It just works. If you want to pull out some extra brightness from your vanilla's, Vanilla Swirl is the answer. I used 2%, a bit higher than normal. But I found it didn't over-flavor the mix, and contributed heavily to the highs, in a net positive way. If you're sensitive to Vanillin, feel free to drop the concentration or leave out completely. Just know, the brightness will suffer drastically.
Ethyl Maltol:
This is the sweetener of choice. I mentioned this many times, but when working with Custards, Ethyl Maltol works as a much, much better sweetener. If you're looking for a sugary "sugar lips" style custard, this is not it. This is more akin to the traditional custards of the early vaping scene.
---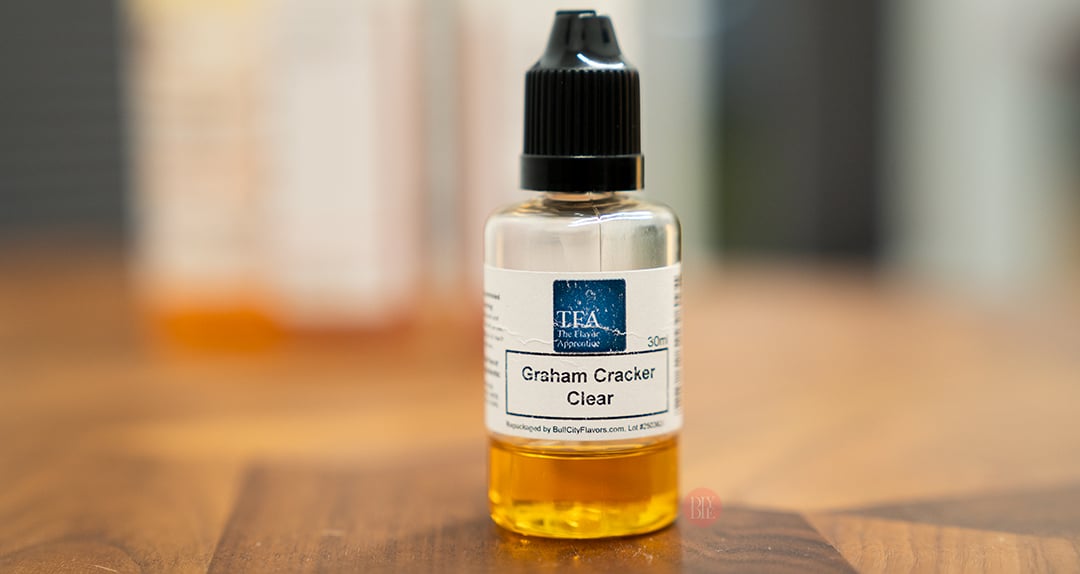 ---
If you enjoyed this recipe, feel free to share it with your friends and family by using the share links provided. And if you have any feedback or awesome tweaks you've made, please, leave your suggestions down below in the comments.