Golden Ticket Remix v6
Description
This recipe is a soft, creamy, chocolate milk modeled after Golden Ticket by MET4 Vapors. This is one of many iterations, but I think I'm finally done chasing the profile. It's as close as I need it. FULL FLAVOR NOTES HERE: https://diyordievaping.com/2017/10/25/golden-ticket-remix-v6-diy-e-liquid-recipe/
Recipe
CAP Super Sweet
0.75%
MB Glamour Chocolate
2.5%
TPA Meringue
0.5%
TPA Vanilla Bean Ice Cream
3.5%
TPA Vanilla Swirl
1%
Total Flavor: 8.25%
Creamy and Sweet Milk Chocolate, Soft Milk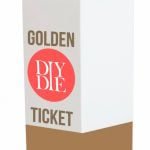 Molinberry Glamour Chocolate has been sent to me rather shortly before this article was written. But as soon as I got it and mixed up some testers, I KNEW that I had to try and throw it into my Golden Ticket recipe base. And lo-and-behold, it works wonderfully, and actually, better than ever before. After a couple days, the chocolate begins to blend more heavily into the mix. The creaminess of the milk and dairy notes fill out the vape. And its all laid on a bed of sweet sweet sugar. If you enjoyed my other iterations of Golden Ticket, or you enjoy the original itself, check this one out. 
Flavor Notes:
MB Glamour Chocolate:  This ingredient has quickly become my favorite chocolate. It doesn't have ANY of the off-notes other chocolates contain. Like the Band-aid flavor of the newest INW Milk Chocolate, or the dry tootsie-roll flavor of TFA Double Chocolate. This is creamy, sweet, soft, and light, milk chocolate. It's not especially vibrant. But that's fine in this recipe because it is only going up against some creams and dairies and has no problem being the star. But if you plan on using this chocolate in heavier mixes, you might have some difficulty. Here at 2.5% it's just the right amount to remain present in the mix, add all its notes, and remain the star of the show.
TFA Vanilla Swirl / Meringue: This is my go-to "light" milk base. The Vanilla Swirl has basically no weight to it, but all top-note. Adding that to the Chocolate creates a really authentic Milk Chocolate flavor. The Meringue is used to add the dairy notes to the mix as well as add some sweetness to the body. It does carry its own fluffiness, but at 0.5%, not enough to become a distraction. This pair alone creates a wonderful pairing to Glamour Chocolate. 
TFA Vanilla Bean Ice Cream: This adds the "depth" to the mix. Something about the original mix, is that it has this specific depth to the flavor. This isn't the exact same type of depth, as the originals depth is more in the middle, and this adds depth more to the base. 3.5% is plenty. If you are someone who cannot vape TFA Vanilla Bean Ice Cream, feel free to use CAP/FW/LB's. All three should work perfectly fine. 
CAP Super Sweet: In my opinion, this is a completely necessary ingredient of the recipe. Chocolates need sweetness attached to them, to really sell their authenticity. Here we're using quite a high amount. If you have TFA/FW Sweetener, use 1% and feel free to go higher if you need to. The original recipe is extremely sweet, without being cloying, thanks to how sweetener blends in with chocolate notes.